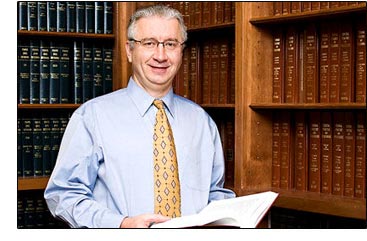 Darrell W. Downs is a member of the Oklahoma and Arkansas Bar Associations, and is also admitted to practice before the U.S. Supreme Court, and the Northern, Eastern, and Western Districts of Oklahoma. He earned his Baccalaureate Degree from the University of Oklahoma and his Juris Doctorate with distinction also from the University of Oklahoma.
Darrell Downs has an active employment and personal injury trial practice representing individuals as well as corporate and insurance clients. He also has pursued multiple successful national telecommunication class action cases which resulted in class certifications involving millions of class members. Mr. Downs represents corporate and insurance defense clients in a variety of complex litigation matters involving environmental, antitrust and insurance coverage claims.
Downs is also a member of the Oklahoma Association of Defense Counsel, American Academy of Healthcare Attorneys, National Health Lawyers Association, Oklahoma Health Lawyers Association, Defense Research Institute. He is approved trial counsel for the Hospital Casualty Company for both employment and malpractice cases, approved trial counsel for the American Association of Oral and Maxillofacial Surgeon Risk Retention Group, approved trial counsel for The American Association of Orthodontists Insurance Company, in addition to numerous other insurance companies that provide coverage to health care providers.
Mr. Downs is AV rated by Martindale- Hubble and has been named as an Oklahoma Super Lawyer.
Downs' published opinions include the following:
Bilbrey v. Cingular Wireless, L.L.C., 2007 OK 54, 164 P.3d 131.
Timberlake Const. Co. v. U.S. Fidelity and Guar. Co., 71 F.3d 335, 64 USLW 2399, 43 Fed. R. Evid. Serv. 636, C.A. 10 (Okla.), November 22, 1995 (NO. 94-6080, 94-6149).
Coffey v. Healthtrust, Inc., 1 F.3d 1101, 62 USLW 2115, 1993-2 Trade Cases P 70,327, 26 Fed.R.Serv.3d 604, C.A. 10 (Okla.), August 03, 1993 (NO. 92-6202).
Chouteau v. Enid Memorial Hosp., 992 F.2d 1106, C.A. 10 (Okla.), May 03, 1993 (NO. 92-6085).
Coffey v. Healthtrust, Inc., 955 F.2d 1388, 60 USLW 2587, 1992-1 Trade Cases P 69,710, 22 Fed.R.Serv.3d 161, C.A.10 (Okla.), February 05, 1992 (NO. 90-6322, 90-6323, 90-6418).
Vinyard v. Smith, 810 P.2d 832, 1991 OK CIV APP 13, Okla.App. Div. 1, February 12, 1991 (NO. 72,315).