2013 Scholarship Finalists
Claire Switzer
Katy Taylor High School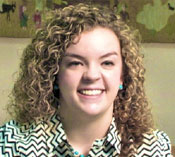 Switzer. That's a name easily associated with the University of Oklahoma. Barry Switzer guided the Sooners to three national championships as the school's head football coach.
Claire Switzer hopes her time at OU adds a little more luster to the name.
"I'm told I'm related to Coach Switzer," says Claire, "third cousins on my father's side of the family.
"I've never met him, but everyone in my family roots for OU because of Barry Switzer."
Seems everyone at Katy Taylor High School feels the same way about Claire.
"Claire is one of Taylor High School's best and brightest," says school counselor Nancy Gonzalez. "Not only is she exceptional academically, she is a joy to be around. She is intrinsically motivated and is well-liked by faculty and peers."
In addition to a 4.33 grade-point average and academic standing in the top ten percent of her class, Claire also excelled athletically as captain of the Taylor volleyball team.
"I have dedicated countless hours to the sport I love," she says. "Volleyball has taught me to never give up, to be a team player, and to take criticism. I don't think I'd be the person I am today without the experiences I've gained on the court."
Claire is the daughter of Sally and David Switzer. Both parents work in the medical field and Claire intends to follow in their footsteps at OU. She plans to pursue a degree in physical therapy and specialize in working with special-needs children.
"As a Peer Assistance Leader (PAL) at my school, I've already spent a lot of time with special-needs kids," says Claire. "I get to be both a mentor and, most importantly, a friend to them. The experience is always a highlight of my week."
One gets the feeling that before too long, Barry Switzer will be bragging about how he's related to Claire.