A Kind and Welcoming Place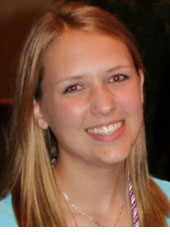 By Samantha Roe, OU Club of Houston Scholarship Recipient 2007
I was born and raised by two wonderful parents in Houston Texas. I followed in my father's footsteps by attending Lanier Middle School and Mirabeau B. Lamar High School. I graduated from high school in May of 2007 with several options for colleges to attend and no clear idea as to which one I would choose.
As a native Texan, most of my friends and family attended Texas colleges after high school, however I felt that I wanted to experience something new for myself. After touring the OU campus I instantly felt like I belonged there. Everyone I met was kind and welcoming and the campus had a great beauty to it. Out of state tuition was extremely high for my family and so I applied for the OU Club of Houston Alumni scholarship in the hopes that this scholarship, if received, would solidify my college decision.
The OU Club of Houston Alumni scholarship paved the way to my future by allowing me the financial support to attend the great university that is The University of Oklahoma. Without their support I would not be the person I am today. My four years at OU not only helped me earn my Bachelors of Science in Zoology and Biomedical Sciences, it gave me a wonderful college experience and for that I am forever grateful.
Following graduation from OU, I attended the University of Texas Health Science Center of San Antonio and graduated with my BS in nursing in December.. I am excited to finally have found my passion in life through a nursing career and although I might wear burnt orange scrubs in the hospitals of San Antonio, I will forever bleed crimson and cream.
Boomer Sooner!