Meet Bill Brown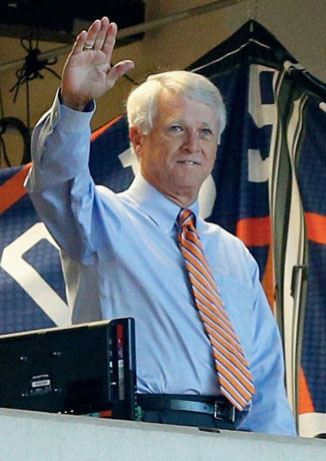 Bill Brown is a highly-regarded and award-winning American baseball announcer. After spending several years working Cincinnati Reds broadcasts, Brown became the television voice of the Houston Astros in 1987, and called Astros games until his retirement from the broadcast booth in 2016.
Brown did play-by-play for the Cincinnati Stingers Television Network for the 1975-76 season and the Cincinnati Reds Television Network from 1976-1982. On Reds broadcasts, he worked four years with Ken Coleman and another four years with Ray Lane. Early in his career, Brown also called Xavier Musketeers and Cincinnati Bearcats basketball, and Cincinnati Swords hockey. Later, he was a senior producer and anchor of the Financial News Network's SCORE programing, and sports director of the Sports Time Cable Network and Home Sports Entertainment in Pittsburgh.
In Houston working Astros baseball, Bill picked up the nickname, "Brownie," from his broadcast partner and former Astros player Alan Ashby. Bill later developed a reputation as a broadcaster who often played the straight man to his TV partner Jim Deshaies' humorous asides.
Brown was inducted into the Texas Sports Hall of Fame in 2004. And In 2011 Bill was inducted into the Media Wall of Honor at Minute Maid Park. The Houston baseball media presented him with the Fred Hartman Award for Long and Meritorious service in 2012. In 2013 Brown was voted Texas Sportscaster of the Year by the Texas voters in the National Sportscasters and Sportswriters Association.
Brown retired from duties as the Astros regular TV play-by-play announcer on September 28, 2016, He lives in Houston with his wife, Dianne. They have a daughter and three grandchildren.