Chester Pitts, Original Houston Texan
Chester M. Pitts is a true testament to longevity, resiliency and durability.
The standout former offensive lineman turned executive consultant and sports analyst has been known for being the last man standing. Chester, the oldest of four children, was raised in Carson, California, where he attended high school at the California Academy of Mathematics and Science. While attending San Diego State University--where he held a part-time job as a supermarket bagger--Chester walked on with the Aztecs football team, his first time in pads since little league. Chester made the squad, became a two-year starter, and earned his degree in public administration.
Then, the almost unthinkable happened: Chester was selected in the second round of the 2002 NFL Draft by the Houston Texans for their inaugural season. As an Original Texan, Chester currently holds the Texans franchise record for player with the most consecutive starts. After spending eight seasons in Houston, Chester finished his NFL career with the Seattle Seahawks in 2010.
Over the years, Chester has actively demonstrated his leadership role in several organizations that assist youth, including: the Texas Children's Hospital, Shriners Hospitals for Children, and the YMCA of Greater Houston. To further his passion for helping others in his community, he started The Chester Pitts Charitable Foundation with his wife, LaToya, in 2010. The foundation's mission is to "evoke artistic interest in our community's children through programs designed to inspire natural creativity, arouse enthusiasm for knowledge, and energize the spirit of our youth."
Chester currently sits on the boards of the Houston Symphony and Altus Foundation. He is an ambassador for the Houston Texans and Child Advocates. Chester helps others, especially athletes, save and grow their money as an executive consultant for ZT Wealth and is currently a television/radio personality in Houston.
Chester is a candidate to receive his MBA from George Washington University. He is father to son Chester "Champ" M. Pitts, III, and daughters, Alanna and Charlotte Pitts.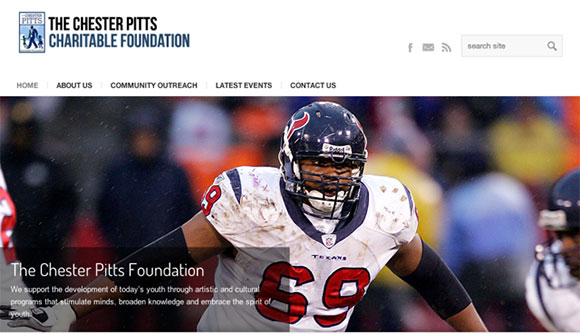 Visit The Chester Pitts Foundation website at www.chesterpittsfoundation.org
I'm Behind The Cause
"It is important that WE take care of our community. As we continue to age, we will all need help. So I vow to give back and do my part. I am Rebuilding Together Houston."
Chester Pitts
Original Houston Texan