Jonathan Jackson, Attorney-At-Law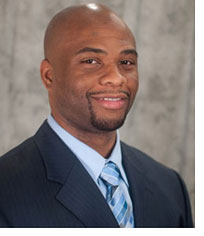 Meeting Jonathan Jackson today, one comes away with the impression he still could be a dominant performer on the football field if he put his mind to it. Jackson's OU playing career came to an end nearly a decade ago. In the intervening years, he's returned to his hometown of Houston and settled into a life far removed from the gridiron.

Jonathan recently joined The OU Club of Houston and here's an update on his story.

Q. What are you doing these days?

A. I recently graduated from law school and passed the Texas Bar. I am currently practicing law here in Houston and focused on building my law practice.

Q. What prompted you to go to law school?

A. I have always admired attorneys and thought it would be cool to go to law school, but I never thought it would be more then a dream. After finishing my football career and evaluating my life goals, I thought "why not." Going to law school turned out to be one of the best decisions of my life. I also viewed going to law school as an opportunity to give back to my family and community. I grew up with so many people that never had a voice because they lacked the knowledge or capabilities to speak for themselves. A law degree gives me the tools to be a voice for the voiceless.

Q. You grew up in Houston. What led to you signing a letter of intent with OU from North Shore High School?

A. OU first gained my attention in the 2000 Red River Rivalry game when OU blew out Texas. Before that game I didn't even know where Oklahoma was. Upon taking a closer look at the team I really enjoyed the style of defense that they played. On my visit to Norman I got to meet the entire coaching staff and felt really comfortable with Coach Stoops and his straightforward attitude. I also got a chance to meet some of the OU fans, which showed me just how passionate people can be about the Sooners.

Q. You joined the OU program fresh off the Sooners 2000 national championship season. How high were expectations that Oklahoma could repeat during your time in school?

A. I honestly didn't go to OU expecting to win a national championship. I understood how difficult it is to win a championship and how many different things have to go your way to win it all. I did expect to become a better football player and win a lot of football games, which I did accomplish.

Q. While there were no more national titles, you played on some great teams. What were some of the highlights of your time at OU?

A.
• Making some life-long friends
• NEVER losing to Texas
• My performance in the Rose Bowl against Washington St.
• Returning an interception for a touchdown against Texas

Q. As an All-Big 12 performer your senior season, I'm sure you had high hopes for a career in the NFL. Talk about your experience in professional football.
A. To play in the NFL was a dream come true. The dream didn't last as long as I had hoped, but I enjoyed every minute of it. I cherish my time in the NFL because it made me a better person. It was a humbling experience that forced me to grow up.

Q. While you didn't leave OU--the first time--with a degree, you went back and finished school. How did that happen?

A. I completed my degree while still playing arena football for the Dallas Desperados. I left OU in 2005, after exhausting my eligibility to play football, but I continued my degree by taking online courses and returning to campus for a spring semester. I never noticed how nice OU's campus was until I returned to campus and actually had a chance to "smell the roses." I never wanted to play in the NFL for long so I knew that it was imperative for me to complete my undergraduate degree.

Q. if you could redo your time at OU, would you do anything differently?

A. Not at all. I'm a firm believer in the saying, "everything happens for a reason." Without my experiences at OU I wouldn't be the man I am today.

Q. You're involved in a major event coming up in March. Talk about it.

A. Yes, March 15, the first ever Houston Whiskey Festival. I'm really excited about it, one of my closest friends and I have been talking about doing this type of event for years. The event will be held at the historic Julia Ideson Building located in the heart of downtown Houston. Patrons will have the opportunity to choose from a wide selection of craft-distilled whiskies as well as other fine spirits. The festival will also have live music, seminars given by master blenders, and a cigar lounge. We are getting a great response from the public, Groupon tickets sold out in only 2 days, but tickets can still be purchased at our website.(http://www.houstonwhiskeyfestival.com)

Q. Can Houston Sooners get involved in the Whiskey Festival?

A. Absolutely, the festival is open to any and everybody, especially Sooners. Don't worry if you don't drink because I don't drink either, but we planned the festival so that everyone will have a great time. We just want to provide people with an opportunity to get out of the house meet somebody new, enjoy good food and live music, and try some new whiskey!!

Q. You recently joined The OU Club of Houston? Why?

A. Because Tim Gregg (Club marketing chair) kept pestering me….LOL! Seriously, I thought it would be a good way for me to reconnect with the Sooner family here "behind enemy lines." Also, now that I'm finished with law school, I look forward to getting more involved in the community.