Oklahoma's Second Congressional District





Oklahoma's Second Congressional District covers approximately the eastern one-fourth of the state. The district borders Kansas (to the north), Missouri and Arkansas (to the east), and Texas (along the Red River, to the south). Altogether, the district includes (in whole or in part) a total of 24 counties. The district includes the remainder of Rogers County (including the county seat of Claremore) that is not taken by District 1, and then, also, all of the following counties: Nowata, Craig, Ottawa, Mayes, Delaware, Cherokee, Okmulgee, Muskogee, Sequoyah, Okfuskee, McIntosh, Haskell, LeFlore, Hughes, Pittsburg, Latimer, Coal, Atoka, Pushmatah, McCurtain, Choctaw, Bryan and Johnston.
Some of the principal cities in the district include Miami, Claremore, Muskogee, Tahlequah, Okmulgee, McAlester and Durant.
The northern half of district 2 includes most of the area of Oklahoma referred to as Green Country, while the southern half of the district includes a part of Oklahoma often referred to as Little Dixie.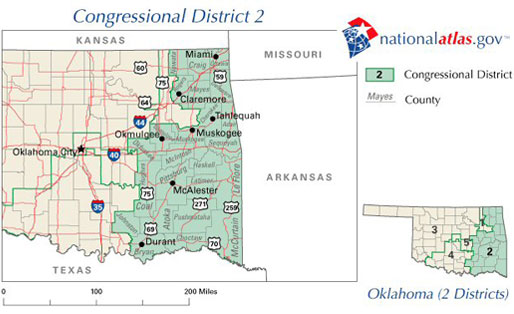 Source: Wikipedia, the free encyclopedia